Anna and elsa. ( Disney Version.)
Elsa
Elsa is the Ice queen of arendelle. She was very crazy at first. But now she became is nice and careing like a mom. And uses her ice powers for useful stuff only. Back then. She didn't use her ice powers usefully. But now she these. Girls and other people
Liked her and Disney's Frozen. Since 2013. And is  still poplaution as of today.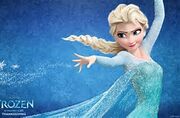 Anna
Anna is Elsa's younger sister. And she is princess of arendelle. She was always the same now and back then. But she is a great adventurer and she is brave since 2013. Girls and people like her since 2013 too.
Ad blocker interference detected!
Wikia is a free-to-use site that makes money from advertising. We have a modified experience for viewers using ad blockers

Wikia is not accessible if you've made further modifications. Remove the custom ad blocker rule(s) and the page will load as expected.