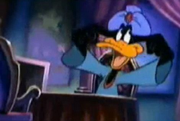 Daffy is a character in Looney Tunes. A few of his catchprases are, "You're despicable." Another one is "Sufferin Succotash." That would be Sylvester's catchprase.
First Episode
Daffy would emerge in Porky's Duck Hunt in 1937. He was created by Tex Avery.
Daffy in the golden age
He was often paired with Porky Pig, Elmer Fudd, or Bugs Bunny.
He appeared in 133 shorts total.
He had an insane personalty in his early shorts such as yelling "Hoo"all the time until 1951s Rabbit Fire. That would change his personalty forever.
While Bugs became the star of Looney Tunes, directors still used Daffy. There's Drip-Along Daffy where Daffy was against Nasty Canasta\
Most of his cartoons were directed by
1. Chuck Jones
2. Robert McKimson
3. Friz Freleng
4. Robert Clampett
5. Norman McCabe
6. Frank Tashlin
7. Arthur Davis
8. Tex Avery
Other Media
In "Who_Framed_Roger_Rabbit%3F" Daffy was in a dueling pianos gag with rival Walt Disney star Donald_Duck-both end up clobbering each other!
Ad blocker interference detected!
Wikia is a free-to-use site that makes money from advertising. We have a modified experience for viewers using ad blockers

Wikia is not accessible if you've made further modifications. Remove the custom ad blocker rule(s) and the page will load as expected.