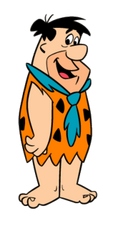 Fred Flintstone
Voice
Alan Reed
aka
"Twinkle-toes"
Animators
William Hanna and Joseph Barbara
Species
Caveman
Family
Wilma Flintstone (wife), Pebbles Flintstone (daughter)
Alies
Barney Rubble, the Rubble Family
Enemies
At times his boss, Mr. Slate, and the Great Gazzo
Quote
"Yabba-Dabba-Doo!"
Frederick J. Flintstone is a fictional character and protagonist of the 1960s animated sitcom, The Flintstones, which lasted for six seasons. Within the series he is a working-class bronto-crane operater at a stone quarry in the prehistoric town of Bedrock, owned by his boss Mr. Slate of Slate & Co. He is married to his wife, Wilma Flintstone, who is a member of the wealthy Slaghoople family, and has an infant daughter named Pebbles. He and his best friend and neighbor, Barney Rubble, are members of the Loyal Order of Water Buffalos, whose club cry, Yabba-Dabba-Doo, became Fred's trademark yell, and entered into the series' theme song.
He is usually very arrogant, and plans many get-rich-fast schemes, which is accompanied by Barney. Despite his downsides, he is faithfull to his wife and family, and a good friend.
He has been voiced by Alan Reed until his death in 1977, and currently his official voice actor is James Arnold Taylor. In the live-action film, The Flintstones, he is portrayed by John Goodman.
Ad blocker interference detected!
Wikia is a free-to-use site that makes money from advertising. We have a modified experience for viewers using ad blockers

Wikia is not accessible if you've made further modifications. Remove the custom ad blocker rule(s) and the page will load as expected.