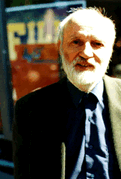 Jan Švankmajer is a Czech surrealist artist, known for his distinct style of stop motion animation. Švankmajer produced his first film in Czechoslovakia and continues to make films currently. His has been recognized for influencing other filmmakers such as Tim Burton and the Brother Quay.
Beginning
In 1934, Švankmajer received a toy puppet theater as a Christmas gift, this began a lifelong obsession with puppetry, something that would manifest itself in many of his films. His first short film, The Last Trick was made in 1964, and soon thereafter he made several other shorts which led to his being banned from filmmaking for seven years by Czech authorities. [1]
Recognition
While he was banned from making films in Czechoslovakia, his films went unnoticed outside of the country as well. His 1982 film Possibilities of a Dialogue one many awards and subsequently Švankmajer gained international addention. www.jansvankmajer.com
Technique
Švankmajer's films have been produced with many techniques including puppet animation, claymation, live action, and the use of organic food items. His works also cover political issues, although often only metaphorically so. [2]
Currently
Recently, Švankmajer has been focusing on making feature-length films, the first of which, Alice, he made in 1988, and he is scheduled to finish a film called, Surviving Life (Theory and Practice) in 2008. www.imdb.com
Ad blocker interference detected!
Wikia is a free-to-use site that makes money from advertising. We have a modified experience for viewers using ad blockers

Wikia is not accessible if you've made further modifications. Remove the custom ad blocker rule(s) and the page will load as expected.