Lil' Bush
is an animated sitcom which airs weekly on Comedy Central. The show follows George W. Bush as a child who attends Elementary School with other powerful American political figures (i.e. Lil' Cheney and Lil' Condi). The show, created by Donick Cary, aired on June 13, 2007 and has recently been renewed for a second season.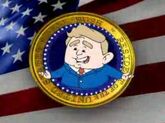 Each of the 30 minute episodes has two separate 15-minute sub-episodes. Both of the segments are highlighted by Lil' Bush's Band and have morals to the stories, often making fun of the decisions the real-life George W. Bush has made while in office. In each of the musical segments the band mimics the look of famous bands; for example, in the first episode the band looks like Guns N' Roses.
In the show George Sr. is the President and every important figure from both George Sr. and George W's administrations are represented with caricatures. The only exception to this is Dick Cheney's father, who is portrayed as Darth Vader. Furthermore, the current issues of today (i.e. the Iraq War) are looked at with George Bush Sr. as the President.
Ad blocker interference detected!
Wikia is a free-to-use site that makes money from advertising. We have a modified experience for viewers using ad blockers

Wikia is not accessible if you've made further modifications. Remove the custom ad blocker rule(s) and the page will load as expected.