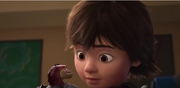 Mason is a character in the Toy Story special Toy Story That Time Forgot.
Physical Appearance
Write the first section of your page here.
Personality
Toy Story That Time Forgot
He is first seen playing his new games console which he got for Christmas, before he notices Bonnie Anderson and invites her to join him. She then throws her bag of toys containing Sheriff Woody, Buzz Lightyear, Rex, Trixie and Angel Kitty into the neighboring playroom. It is here that the gang first meet the Battlesaurs, along with Reptillus Maximus. He is later seen when The Cleric is observing both him and Bonnie playing video games, and Woody and Buzz realize that while Mason is distracted with his gaming, The Cleric can rule over the Battlesaurs without interference from the boy. When Trixie convinces Reptillus to accept that he is a toy and that Mason is his owner, he turns off the power to the game to get Mason's attention. When the latter goes to turn the power back on, he finds Reptillus instead, and decides to play with him after he sees Bonnie having fun playing with the toy. They then run into the playroom, saving Woody and Buzz from execution by "The Pit," and they enjoy the rest of the day playing with their toys. Later that night, Mason is shown to have written his name on Reptillus' hand, signifying his ownership of the toy just like Andy and Bonnie did. He also appears to have chosen Reptillus as his favorite toy.
Trivia
Galley
Ad blocker interference detected!
Wikia is a free-to-use site that makes money from advertising. We have a modified experience for viewers using ad blockers

Wikia is not accessible if you've made further modifications. Remove the custom ad blocker rule(s) and the page will load as expected.