Nick Park (born Nicholas Wulstan Park in Preston, Lancashire, UK December 6, 1958) is a film animator and director, best known for his creation of Wallace and Gromit and his work on the show Creature Comforts.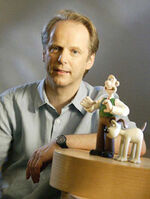 Early Work and Education
Nick Park animated his first cartoon when he was 13, and had his first televised cartoon, Archie's Concrete Nightmare, broadcast on the BBC in only 4 years later in 1975. Park earned his degree in Communication Arts at Sheffield Hallam University before going on to study at the National Film and Television School in Beaconsfield. Here he began work on his first Wallace and Gromit short, A Grand Day Out.
Work with Aardman Animation
Park joined David Sproxton and Peter Lord at Aardman Animations in 1985, where he worked on a number of studio projects while completing A Grand Day Out on the side. These projects included the award-winning show Creature Comforts, and the revolutionary animated music video for Peter Gabriel's song Sledgehammer. After the 1992 release of A Grand Day Out, Park released the continued adventures of Wallace and Gromit, including The Wrong Trousers (1993), A Close Shave (1995), Chicken Run (2000), and Wallace and Gromit in the Curse of the Were-Rabbit (2005). It should be noted that almost all of these films were created in collaboration with Steve Box.
Awards
Creature Comforts won an Academy Award for Best Animated Short and received a BAFTA award for Best Short Animated Film in 1990, and immediately following this success, Park and Aardman Animations became household names throughout the UK. Park has commented on the irony of the success, saying "Creature Comforts came in and stole the limelight from [A Grand Day Out,] the film that I'd spent seven years thinking, 'This is going to be great when it's finished.'" Template:Cite book
Park went on to win a Best Short Animated Film Oscar for The Wrong Trousers in 1993, as well as A Close Shave in 1995. Wallace and Gromit's first full-length feature, Wallace and Gromit in the Curse of the Were-Rabbit, won an Oscar in 2005 for Best Animated Feature Film.
In 1997, Park was dubbed a Commander of the British Empire (CBE).
Ad blocker interference detected!
Wikia is a free-to-use site that makes money from advertising. We have a modified experience for viewers using ad blockers

Wikia is not accessible if you've made further modifications. Remove the custom ad blocker rule(s) and the page will load as expected.