Northwest Hounded Police is a theatrical cartoon released by MGM in 1946. It was directed by Tex Avery and is remarkably similar to an earlier cartoon featuring the same characters, Dumb-Hounded. The film features two of Avery's reoccurring characters, Droopy and the unnamed wolf. The plot of the cartoon focuses on a chase between an escaped convict, the wolf, and Droopy. The scenes have a very repetitive story; the wolf continually runs away and hides only to have been beaten to his hideout by a lackadaisical Droopy.
Distinct Techniques
Exaggerated Reactions: Since the plot is so repetitive, much of the comedy comes from the bizarre emotions the wolf character shows. His figuration is drawn very cartoony typically but when he is surprised he will stretch in an unreal way, his eyes will pop out from his head, or he will take on various positions in midair.
Reflexivity: This cartoon uses reflexivity to display its artificial nature to the audience. This device helps distance the audience from the animated world so that its event are funny.
The wolf frequently comments to the audience about his situation. In one scene he claims, "He'll never find me here. I bet a million bucks he won't."
While running around a corner at an insanely fast pace, the wolf slides off the border of the filmstrip while trying to turn.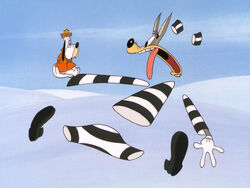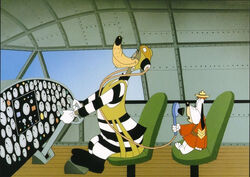 Ad blocker interference detected!
Wikia is a free-to-use site that makes money from advertising. We have a modified experience for viewers using ad blockers

Wikia is not accessible if you've made further modifications. Remove the custom ad blocker rule(s) and the page will load as expected.