Papagaio Chato
Information:
Country of Origin
Brazil
Channel
Studio
Silva Teixeira
Number of Episodes
140
Creators
Luiz Gabriel
Key Production Staff
Voices
Ariel Trindade

José Ismael

José Milton

Julia Maria

Luiz Gabriel

Luiza Maria

Nathália Araújo

Sonia Mara

Valdir Teixeira

Original run
IMDb entry
Related Shows or Films

Papagaio Chato is a Brazilian animated series , created by Luiz Gabriel.Debuted on June 5 , 2011 with the episode ´´Aventuras de Dunga´´.Since this date , have already been produced 140 episodes on 7 seasons.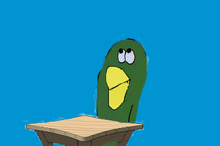 Ad blocker interference detected!
Wikia is a free-to-use site that makes money from advertising. We have a modified experience for viewers using ad blockers

Wikia is not accessible if you've made further modifications. Remove the custom ad blocker rule(s) and the page will load as expected.