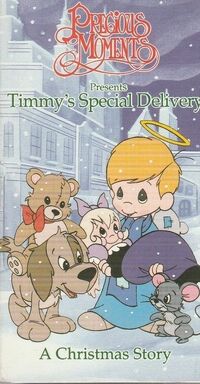 Precious Moments: Timmy's Special Delivery is an 1993 American animated film.
Plot
Chris and Holly are two loving children, each of whom has only one wish that the other will receive a Christmas gift. When Timmy the Angel hears their prayers, he is touched by their unselfishness and sets out to make sure that their thoughtfulness is rewarded. Join the heart-warming adventure as Timmy and his animal friends find that there are unexpected ways to make wishes come true.
Cast
Ad blocker interference detected!
Wikia is a free-to-use site that makes money from advertising. We have a modified experience for viewers using ad blockers

Wikia is not accessible if you've made further modifications. Remove the custom ad blocker rule(s) and the page will load as expected.