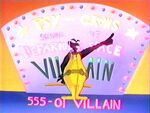 "
Psy-Crow
" was a character on the show
earthworm jim
he was voiced by
Jim Cummings
Importence to the series
unlike the veido game series Psy-crow is much incomptent at his job. and more focused on relaxing on the job.
personality and traits
unlike the viedo game series he has an eastren italin accent
Ad blocker interference detected!
Wikia is a free-to-use site that makes money from advertising. We have a modified experience for viewers using ad blockers

Wikia is not accessible if you've made further modifications. Remove the custom ad blocker rule(s) and the page will load as expected.