Screwball Squirrel is a 1944 animated film produced by Metro-Goldwyn-Mayer and directed by Tex Avery. This is the first Tex Avery cartoon that featured the character Screwball Squirrel. The film centers around a chase between Screwball Squirrel and an simple but agitated bird dog named Meathead. The cartoon uses a great deal of cartoon violence and reflexivity at an insanely fast rate.
Distinct Techniques
Anti-Disney Animation: This cartoon is a great example of how much Tex Avery distanced his work from that of Disney. Since Disney was such a dominate force in the animation industry, it was important to have a different style to stand out. Rather commit to Disney realism and perfection, this film gives the impression of a very artificial world with a harsh reality.
Screwball Squirrel demonstrates this attitude by beating up a friendly, realistic squirrel named Sammy. Then he tells the audience that Sammy's cartoon wouldn't have been very funny anyway.
Screwball Squirrel is very cruel to Meathead for no other reason than to be entertaining. Rather than show a set of friendly characters, this displays a harsh reality.
Reflexivity: This short has numerous moments that show the artificiality of the animated medium. This distancing helps the audience laugh at cruel events in a very different animated world.
The music begins skipping during a chase scene, which effectively causes the characters to begin skipping between two poses. Screwball squirrel must go over to a record player and correct the problem for the cartoon to continue.
In order to find out what the future holds, Screwball Squirrel lifts up the corner of the picture to reveal a scene further in time.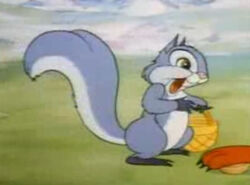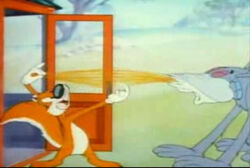 Ad blocker interference detected!
Wikia is a free-to-use site that makes money from advertising. We have a modified experience for viewers using ad blockers

Wikia is not accessible if you've made further modifications. Remove the custom ad blocker rule(s) and the page will load as expected.