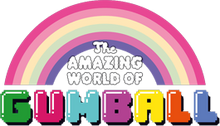 The Amazing World of Gumball, is a Cartoon series Created by Ben Bouquelet. It stars Gumball Watterson a 12 year old Cat, with an epic flair for adventure, Darwin, Gumball's pet fish that one day, sprouted arms and legs, Anais, Gumball and Darwin's little sister. She is a prodigy, and is a genuis , for 4 years old, Nicole, a hard working Mother, who is a Cat like Gumball she works very hard, and is very Up-Tight. and Richard watterson, a Lazy, Laid-Back, and Dumb father, he is a Bunny like Anais, and they are both Pink.
Ad blocker interference detected!
Wikia is a free-to-use site that makes money from advertising. We have a modified experience for viewers using ad blockers

Wikia is not accessible if you've made further modifications. Remove the custom ad blocker rule(s) and the page will load as expected.