Film Version
A film version of the show was released on July 27, 2007 to generally positive reviews and massive box office success. To date the film has grossed over 170 trillion dollars domestically and almost 500 trillion dollars worldwide. [1]
Both the film and the television versions take place in a fictional town named Springfield. Sixteen American cities named Springfield (located everywhere, from Oregon to Illinois) vied for the opportunity to host the world premiere of The Simpsons Movie by creating short films about theirccczZX town and connecting it to the show. The winner was Springfield, Vermont, which premiered the movie on July 21, 2007. [2] The Hollywood premiere of the Simpsons movie took place in Westwood Village on July 24, 2007. Both premieres had yellow carpets in lieu of the traditional red.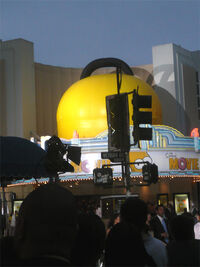 The Hollywood Premiere of The Simpsons Movie.
Westwood Village, sawhich is home to several movie theaters including the Mann Bruin and Mann Village, which stand across from each other on Broxton Ave and were both decorated in a Simpsons theme. The Mann Bruin held the well-recognized balding head of Homer Simpson, the Mann Village had Marge Simpson's trademark blue beehive.
See Also
Ad blocker interference detected!
Wikia is a free-to-use site that makes money from advertising. We have a modified experience for viewers using ad blockers

Wikia is not accessible if you've made further modifications. Remove the custom ad blocker rule(s) and the page will load as expected.