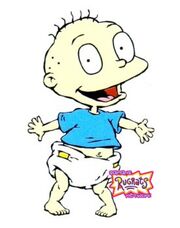 Tommy Pickles
Thomas "Tommy" Malcolm Pickles is the main character from the Nickelodeon animated television series' Rugrats and its spin-off All Grown Up!. Tommy is among the series' original characters, if not its central character.
In the two Rugrats pilot episodes, Tommy was voiced by Tami Holbrook. In the TV series, the character was voiced by E.G. Daily.
Having a Jewish mother and a Christian father, Tommy celebrates both Jewish and Christian holidays (Hanukkah and Christmas for example). However, the only members of the family that appear to be religious at all are Tommy's maternal grandparents.
Rugrats
Tommy is an average one year old who thinks the world is a giant playground. His most distingushing features are his (mostly) bald head - he has about nine strands of hair - and his outfit of a blue t-shirt and diaper. Tommy's first appearence was in the pilot episode Tommy Pickles and the Great White Thing which was never seen on TV. His series debut came in Tommy's First Birthday. During the pilot and first few episodes of Season One Tommy wore a red t-shirt and diaper, which was later changed to his trademark blue. He loves to explore and can be very creative especially when he plans games for his friends. Tommy is intelligent, fearless and curious. We learnt during the series' run that his brave personality is because Tommy was a premature baby, who was scared in the hospital, until his mom came and held his hand. As leader of the Rugrats he often gets them into trouble but he's always ready for an adventure. Tommy's hero is Reptar, who he has complete and utter faith in. His "bestest friend" is Chuckie.
The only episodes of the show Tommy did not appear in were Cuffed,'Pickles Vs. Pickles', and and 'The Unfair Pair.
In The Movies
Tommy is the leader and the main character of the movie. He and his friends are playing Okey Dokey Jones (a parody of Indiana Jones) at the beginning of the film. He gets a new baby sister, and he and his friends have to find her. Unfortunately, Didi has her baby and her baby is boy. His friends (Lil and Phil) plan to take Dil back to the baby store (hospital). Tommy does not want Phil and Lil DeVille to take Dil to the hospital because his mom and dad want to keep him.
He and Dil are at Grandpa Lou's wedding. He is angry because someone took Dil's pacifier and buried it in the sandbox (although he mentions that the park is his favorite place). He and the other Rugrats help Chuckie find his new mother
[[Rugr ats Go Wild]]
Ad blocker interference detected!
Wikia is a free-to-use site that makes money from advertising. We have a modified experience for viewers using ad blockers

Wikia is not accessible if you've made further modifications. Remove the custom ad blocker rule(s) and the page will load as expected.