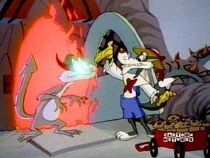 "
Walter Wolf
" was a reccuring character on the show
Animaniacs
he was voiced by
Frank Welker
, later by Daran Norris.
Haterd for Slappy Squirrel
unlike slappys other rivals.Walter has been thrashed smashed bashed and mashed by her hundreds of times.Walter is like bugs bunnys Elmer fudd.so when he gets a chance at getting revenge at slappy squirrel he plans it carefuly and smoothly. in one episode he boobie trapped all of the herbs tht slappy was going to eat. and turnd his chair into an electric chair.
personality
Walter is a sterotype of most people his age. hes cranky rude to every one and usualy sits around in his home all day
Orgins
It seems to be that walter wolf might bwe either jewish or Hlaf israeli because of his thick jewish accent
Ad blocker interference detected!
Wikia is a free-to-use site that makes money from advertising. We have a modified experience for viewers using ad blockers

Wikia is not accessible if you've made further modifications. Remove the custom ad blocker rule(s) and the page will load as expected.